Firstly, Happy Thanksgiving to our American readers. Eat turkey, be merry, hang with your families, have fun, and let's not have any shopping-related deaths this year. Having celebrated our Canadian Thanksgiving last month, today is . . . Thursday. Yep, business as usual, though I might try to go for my H1N1 shot tomorrow. Now, to Russia for the rest of this post!



Huzzah! The PoZitive Orchestra's official site was updated sometime fairly recently with a new band photo, some upcoming gigs, and the jackpot: three new songs! With their same unique bossa string quartet sound, they tackle three homegrown Russian covers. I had to do some digging to find out exactly what songs were being covered, but don't let your unfamiliarity with the source songs dissuade you from eating these up since they're, naturally, brilliant. As might be expected, there are a few musical quotations of American classics sprinkled within, but I'll leave those for you to discover.

PoZitive Orchestra - Носки [originally by Sektor Gaza]
This was originally by the Russian punk band Sektor Gaza (in English: Gaza Strip) from their 1990 album, Ядрена Вошь. The track's title translates as "Socks". Check out this music video of the original song:



PoZitive Orchestra - Прощайте, скалистые горы [original music: Evgeny Zharkovsky; lyrics: Nikolay Bukin]
This one translates as Farewell, Rocky Mountains and was originally a WWII poem by Nikolay Bukin telling of the impenetrable Soviet defense of the Rybachy Peninsula against the Germans. Songwriter Evgeny Zharkovsky set the lyrics to music and it became popular among Russian army seamen. For a little more historical context, read this. There are numerous recordings of this song, but I found this youtube video particularly compelling:



PoZitive Orchestra - Смуглянка [original music: Anatoly Novikov; lyrics: Yakov Shvedov]
Here's another WWII-era song. The title translates as "Darkie" and it seems to be a love song. Youtube embedding is disallowed, but check out a performance of the song by the Alexandrov Red Army Choir here.

===============================

I was reminded of a discovery I made at the library a while back in the Russian children's section. Do you recognize these characters?


Why, it's Winnie-the-Pooh and Piglet, of course! Confused? It's not the Disney incarnation and a long ways off from the E. H. Shepherd "classic Pooh" design. In 1960, Russian poet and children's author Boris Zakhoder introduced generations of Russian children to Winnie-the-Pooh with his liberal translations of A. A. Milne's classic Pooh tales (originally published in 1926). His design of Pooh and the other residents of the 100 Acre Wood may be jarring to us Westerners, but from what I gather, this is the lasting legacy of Pooh in Russia to this day. See if you can recognize some of these iconic moments and characters from the Winnie-the-Pooh stories: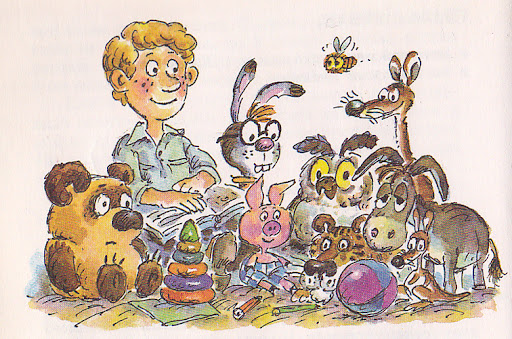 Even more fascinating, Russian animator Fyodor Khitruk started a trilogy of Pooh short films in 1969, three years after the first Disney Pooh short, based on the translated books (Zakhoder co-wrote the screenplays). Now I'm an unabashed devotee of the Disney Pooh films, but these are quite brilliant in their own unique way. The voices, the hand-drawn quality of the animation, the music, and basically everything about it is a little mind-blowing. The first two shorts are each about 10 minutes and part 3 is about 20 minutes . If you've got some spare time (or even you you don't), definitely check these out!

Vinni-Pukh (1969)


Vinni-Pukh Goes on a Visit (1971)


Vinni-Pukh and the Day of Concern (1972) PART I


Vinni-Pukh and the Day of Concern (1972) PART II